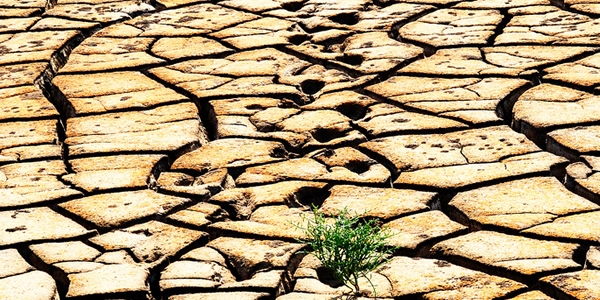 By Suzanne York
In this summer of drought in many places around the world, concern about water scarcity is growing, yet we hear little about the impact of growing populations on the availability of water.
Studies have shown that global demand for fresh water is likely to outstrip supply as a result of population growth by the middle of this century if current levels of consumption continue.
Less than one percent of the world's water can be used for human needs. Globally, a billion people, or one in seven on the planet, lack access to safe drinking water.  It is, of course, vital for all life on Earth.
Recently experts with the World Resources Institute declared that nearly half of 33 countries expected to face extremely high water stress by 2040 are in the Middle East, where surface water is limited and demand is high. Over 350 million people live in the region.
Last week, at the World Water Week conference in Stockholm, Claudia Sadoff, an economist with the World Bank, said that while the Middle East and North Africa have long suffered chronic water shortages, Africa is the only region where water insecurity is increasing.
Sadoff told Reuters that "Africa is the only region in which the risks of (inadequate) water supply and sanitation are actually increasing because the population is growing very quickly and … the supply is not keeping pace."
More than half of the world's population growth between now and 2050 is expected to occur in Africa, mostly in Sub-Saharan Africa.
But few places will remain untouched by the threat of water scarcity and human demand for this most precious of resources, as this map clearing shows: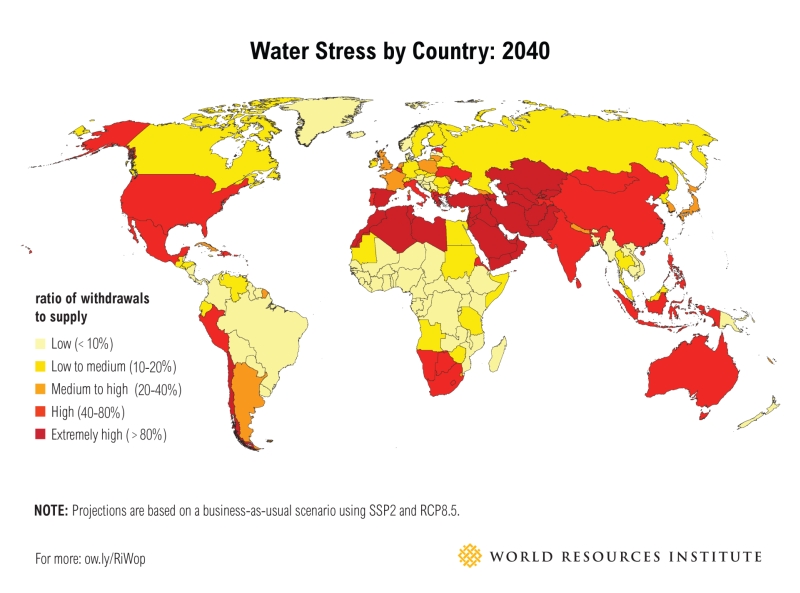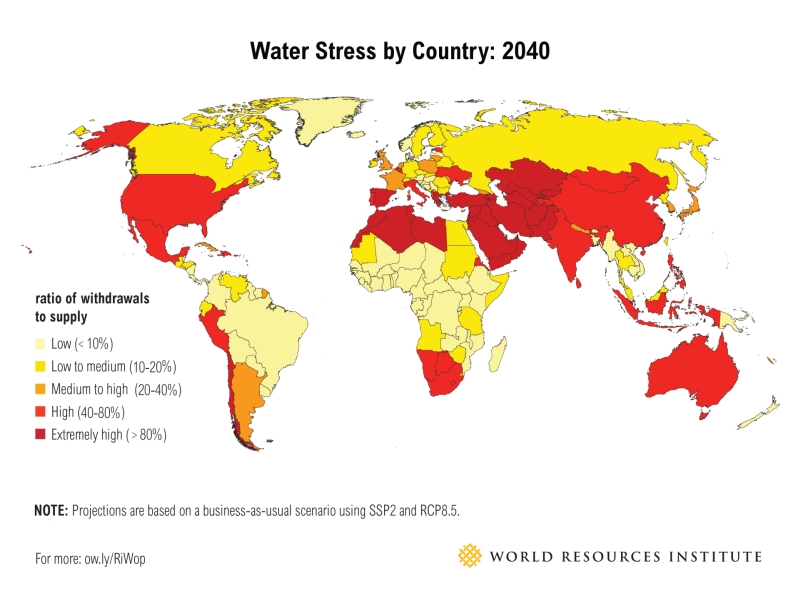 Climate, California and Drought
The impacts of climate change will play havoc with water, flooding some regions and drying out others. And the increase in demand for freshwater in many countries will contribute to greater water scarcity as the planet heats up.
Human-caused climate change is increasing the drought risk in California, according to a report out of Stanford University.  One of the lead scientists said that the continuation of global warming "will result in more frequent occurrences of high temperatures and low precipitation that will lead to increased severe drought conditions."  The current drought affects over 37 million Californians.
There have been some predictions that global warming will fuel "mega-droughts" – droughts that last for several decades – in the Southwest and Plains states that are worse than any drought of the past 1,000 years.
Land of the Incas
Centuries ago, the Incas build impressive aqueducts to address water scarcity in much of their empire. Today, the Andean nations of Peru and Bolivia are experiencing water shortages and melting glaciers, and rainfall could decline by up to 30 percent by the end of the century. Scientists have stated that even the next 20 years could see a noticeable drop in rainfall, severely impacting small-scale farmers and people living in poverty.
Reasons for the reduced rainfall include deforestation in the Amazon (mainly for industrial agriculture and export crops) and increased greenhouse gas emissions that are changing wind patterns over the Central Andes.
India – Praying for Monsoons
The UN's World Population Prospects predicts India will overtake China to become the most populous country in the world in 2022.
India, with a current population of 1.3 billion, is a country that greatly relies on and reveres monsoons. Yet this year, the country as a whole received only 77 per cent of the normal rainfall in August, and September isn't shaping up to be any better, and many regions of India are experiencing a second consecutive year of deficient rainfall this monsoon season.
India already faces an acute water shortage. To top it off, climate change and the unpredictable monsoon have made matters worse. Per capita availability of fresh water has declined from 3,000 cubic meters to 1,123 cubic meters over the past 50 years.
Overuse of aquifers is a great concern (as it is in California and China). As much as 55% of India's total water supply comes from groundwater resources. Uncontrolled exploitation by farmers has led groundwater levels to plummet dangerously across large parts of the countryside. Groundwater is critical to India's water security.
Solutions with Women at the Center
There are actually many solutions that can be implemented today without too much burden, from conservation to greater efficiency to drip irrigation. More traditional methods such as rainwater harvesting are also rising in use. For example, in India, communities in the desert state of Rajasthan are using taankas, or underground water storage tanks; this was a traditional way of harvesting and storing rainwater.
A less obvious but critically needed solution is empowering women. Women bear the brunt of water shortages, as it is often their role to provide water for their families. Women are intrinsically linked to water as a result of traditional roles and responsibilities using and managing water.
Programs such as Barefoot Water Technicians in India, run by the Self-Employed Women's Association, or SEWA, help address water scarcity issues and empower women at the same time by training women to install and fix broken water pumps. They are also taught how to repair wells and create roof rain harvesting tanks, and can teach water conservation.
In Africa, the
Global Women's Water Initiative
works in 13 nations to improve water supply through training African women leaders as water and sanitation technicians. The trainings empower African women leaders with water technologies, livelihood opportunities, seed funding, and leadership skills so they can design appropriate and long-term solutions to water and sanitation crises in their communities.
Last but not least, one overlooked solution is increasing access to voluntary family planning services, which can help slow population growth. This in turn can decrease demand for resources and complement ongoing efforts to ensure adequate and clean water for all.
Connecting the Dots
Water scarcity affects the health of both people and the environment.   In the words of UN Secretary-General Ban Ki-moon, "We must connect the dots between climate change, water scarcity, energy shortages, global health, food security and women's empowerment. Solutions to one problem must be solutions for all."
[Top photo credit: Creative Commons: Patrick Feller, 2011]