See how others are helping.
The campaign map shows Campaign Friends (people who have put their name on the map in support of Speak Out), Campaign Activists (people who have pledged to help spread the word), and Book Champions (people who have requested free books to distribute). Join us! Put your name on the map!
Campaign Friends
Campaign Activists
Book Champions
Petition to The Pope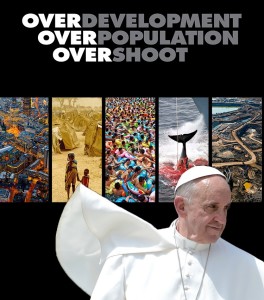 In honor of World Population Day, we, the people, respectfully call upon Pope Francis to accept a copy of Overdevelopment, Overpopulation, Overshoot (OVER), and urge him to revise his recent encyclical on climate change in a way that recognizes the powerful contribution that population stabilization — achieved through investments in reproductive health and respect for the reproductive rights of women — could make to global sustainability. We furthermore request that this copy of OVER be placed in the Vatican Library for the benefit of church leaders, including future pontiffs.
Sign the Petition