See how others are helping.
The campaign map shows Campaign Friends (people who have put their name on the map in support of Speak Out), Campaign Activists (people who have pledged to help spread the word), and Book Champions (people who have requested free books to distribute). Join us! Put your name on the map!
Campaign Friends
Campaign Activists
Book Champions
"Over-Over-Over features a refreshingly spare text. There's an introduction by the guiding founder of the Population Media Center, William Ryerson; a foreword by Musimbi Kanyoro, a veteran defender of family planning as a fundamental human right; and closing comments from Eileen Crist, an advocate for the myriad other species that our own overwhelming presence threatens to push off the planet. You should read their intelligent remarks, because it's well worth the time – even though you'll be tempted to go right to the pictures. And understandably so: The real star of this book is the photography."
There are thousands of essays, articles and books dealing with population but "Overdevelopment, Overpopulation, Overshoot" provides a convincing new way of understanding the impacts of population size on human welfare and nature. Through well-chosen quotes, and stunning photographs, this largely visual presentation documents the realities and role of burgeoning human numbers on a broad variety of important areas including the destruction of wildlife and natural systems, air and water pollution, food insecurity and climate change.
A stunningly beautiful book, Over Over Over calls to mind the films of Godfrey Reggio, who some critics called to account for making the ugly—exploding napalm consuming whole villages—look visually compelling. Despite the beautiful images of often ugly things—degraded or devastated land and seascapes, wholesale slaughter of non-human creatures, human crowding and poverty—there is no getting lost and forgetting what is before us: the injury we have wrought as a species to others, the Earth and ourselves.
Petition to The Pope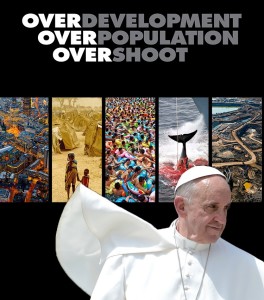 In honor of World Population Day, we, the people, respectfully call upon Pope Francis to accept a copy of Overdevelopment, Overpopulation, Overshoot (OVER), and urge him to revise his recent encyclical on climate change in a way that recognizes the powerful contribution that population stabilization — achieved through investments in reproductive health and respect for the reproductive rights of women — could make to global sustainability. We furthermore request that this copy of OVER be placed in the Vatican Library for the benefit of church leaders, including future pontiffs.
Sign the Petition