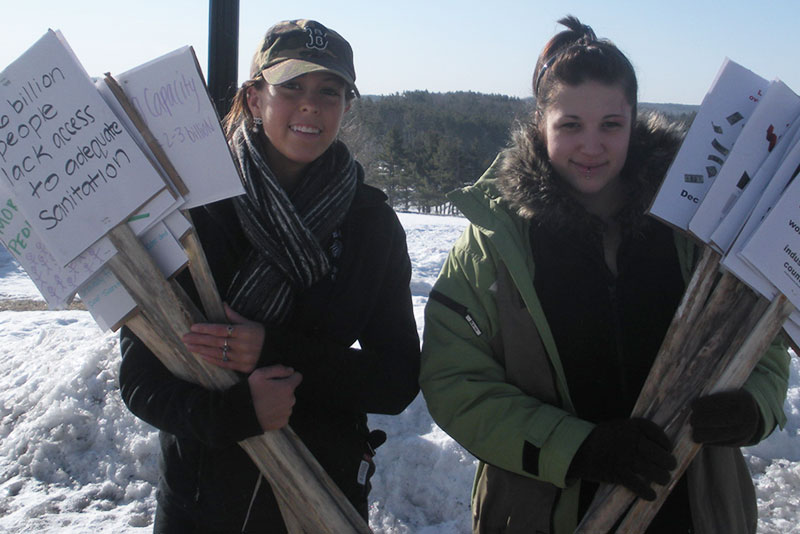 "Never doubt that a small group of thoughtful, committed citizens can change the world; indeed, it's the only thing that ever has." So said Margaret Mead, a leading feminist whom Time magazine once named "Mother of the World." When it comes to the issue of population, Speak Out welcomes and empowers thoughtful and committed citizens from all around the world to engage in prominent and unembarrassed public discourse and campaigning.
In fact, the roots of Speak Out are firmly planted in one of the major problems of our time: the trivialization, denial and disavowal of the enormous size and ongoing rapid growth of the human population — and the dysfunctional impacts these physical realities have on the both the natural world and human societies. Unfortunately, there are many ideological and vested interests who are either agnostic on the population issue, or even worse, simply don't care about the rights of other species to exist. Some think endless population growth is both desirable and possible — others feel it is just not that important of an issue. These voices tend to vigorously oppose public discussion of population and related issues.
The 1990s and the early 2000s were especially difficult times for the global population advocacy community. For example, in the early 1990s a full 68% of Americans believed population growth to be a pressing problem — by the year 2000, that number had declined to just 8%.
However, as climate weirdness, violent weather, food shortages, oil spills, economic collapses, resource wars, and the sixth great mass extinction all gathered momentum in the late 2000s, an equally jaw-dropping, eye-popping event occurred: on October 31st, 2011, the human population on Earth zoomed past 7 billion. This demographic extreme — some might say absurdity — focused global consciousness directly back onto human population as an obvious issue influencing whether the human community can achieve a sustainable living scenario with the only planet we call home: Earth.
This public awareness was extremely helpful in changing the conversation around population issues. There is even more good news for this new generation of population activists — in the 21st century, solutions to the population challenge are many. They are progressive. They strengthen human rights and improve human health. Today, advocating for human population stabilization also means advocating against oppressive cultural practices such as gender-based violence, rape, genital mutilation, prostitution, slavery, and child marriage. Its means advocating for family planning information and services. It means promoting primary and secondary education and supporting efforts to raise the status of women and children around the world.
As Eileen Crist notes in the OVER Afterward, "Wherever concerted policies to lower birthrates have been implemented, birthrates have declined with alacrity. By concerted policies I include the following: prominent, unembarrassed public discourse and campaigning on the issue; prioritizing the education of girls and women; establishing reproductive clinics that are accessible and affordable to all; training large numbers of health workers for grassroots education and support; making marriage counseling widely available; bringing sex education to school curricula; providing the full array of modern contraceptive methods for free or at minimal cost."
Global Population Speak Out is one of many initiatives around the world seeking to promote public discourse, campaigning, and activism around population size and growth — and the many positive, human-rights enhancing solutions available to help achieve global population stabilization.
On this website, you'll find lots of ways to join the campaign, including: