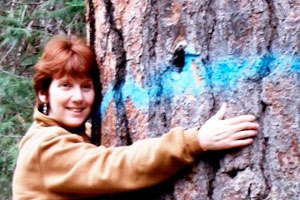 Denise Boggs is the current Director for Conservation Congress, an organization focused on forest watch and wildlife advocacy in Northern California.  She works specifically to protect the wild habitat of the spotted owl, a threatened species under the Endangered Species Act from destructive forest projects in Northern California.  In 1998, Denise founded the Utah Environmental Congress where she worked as executive director until she founded the Conservation Congress in 2004.
As a grassroots activist, Denise's passion for species protection and defense of forest habitat shows through in her advocacy efforts challenging forest services in Utah and Montana as well as speaking out against political deal-making.  The Conservation Congress works to hold federal and state agencies responsible to wildlife protections and environmental safeguards, as well as with other organizations to protect public water, fisheries, bald eagles and other threatened species.
She received the Fund for Wild Nature's Grassroots Activist of the Year award in 2013 and continues to successfully advocate for and create change in important areas of environmental protection primarily in Utah.