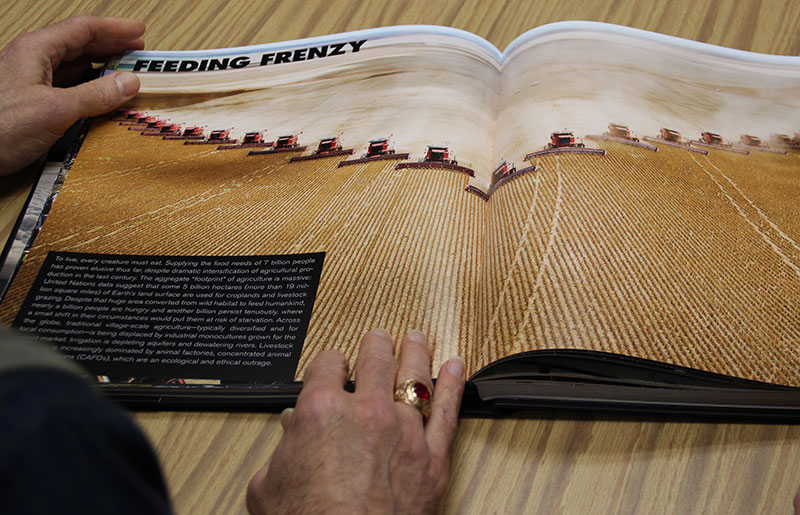 December 1, 2014
At the center of the Global Population Speak Out (Speak Out) campaign, is a book as large and dramatic as the topic it covers, Overdevelopment, Overpopulation, Overshoot (OVER). Speak Out and OVER are designed for those already engaged in environmental work, as well as new learners. Speak Out will be distributing advance copies of OVER to people requesting books to deliver to policymakers, opinion leaders, and other key audiences. Those who distribution proposals are accepted will be known as Speak Out Book Champions. The book will also be available commercially on March 15, 2015. It retails for $50 US.
Using an exhibit-format treatment with provocative photos from around the world, OVER hits the reader with emotion and disturbingly beautiful images while moving beyond insider debates and tired old arguments (yes, population numbers and consumption both matter when it comes to sustainability). The heart of OVER is a series of photo essays that illuminate the range and depth of the damage that human numbers and behavior have caused to the Earth—and the threat this poses to humanity's future. It also features foreword, introduction, and afterword essays written by renowned women's rights, population, and conservation experts.
Both OVER and the Speak Out campaign help spread important environmental and social-change messages and bring international attention to the burdens human population size and growth are putting on the planet's ecosystems — and to emphasize the very actionable ways to improve human rights and human health, which will help stabilize population numbers sooner rather than later — all of which help address the many social and environmental challenges facing the world.