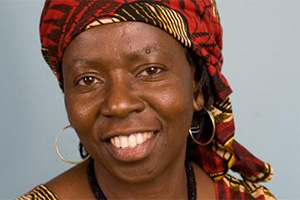 Musimbi Kanyoro is a passionate advocate for women and girls' health and human rights, and social change philanthropy and is the current President and CEO of the Global Fund for Women. Dr. Kanyoro is an accomplished leader with three decades of experience managing international non-governmental organizations, global programs, and ecumenical agencies in cross-cultural contexts. She is a strategic leader who inspires people, and mobilizes action and resources. She is the author of dozens of articles, hundreds of speeches and opinion pieces and has written and co-edited 7 books. Musimbi is a frequently sought after public speaker.
Dr. Kanyoro also serves on several International Boards and working groups including the Aspen Leaders Council, the UN High level Taskforce for Reproductive Health and the boards of CARE, IntraHealth and CHANGE.
Dr. Kanyoro has PhD in Linguistics from the University of Texas, Austin and a Doctorate in Feminist Theology from San Francisco Theological Seminary. She was a visiting scholar of Hebrew and the Old Testament at Harvard University. She has received three honorary doctorates and several recognition awards, including a leadership award from the Kenya Government and most recently she was named as one of the 21 women leaders for the 21st century by Women's E-News.